* Opening to Your
Personal Guides *
3 week teleclass apprenticeship series
*Psychic Classes*
with Rev. Dr Cynthia Killion,
aka Psychic Cynthia
THANKS for your interest in this teleclass series! This class is now OVER and completed. Please follow Psychic Cynthia on FB or subscribe to her
on-line Cosmic Newsletter
through this site to stay notified about future class offerings. Blessings!
CLASS DATES:
Introductory Class
(scroll down to listen to or download below)
Class 1: Thurs March 8th
Class 2: Thurs March 15th
Class 3: Thurs March 22nd
All Classes start at 8 pm USA Central standard time
(9 Eastern, 7 mountain, 6 Pacific)
TUITION: $99 Early Bird Rate (when enrolled by February 24th)--Click on the Buy Now button below to sign up for this 3 week teleclass psychic apprenticeship on Opening to Your Personal Guides. Fee includes your 3 live teleclasses and downloadable class materials, your complimentary pre-recorded introductory class & intro class guides, and access to recordings of the other 3 classes once they are available and ready for download. (After March 9th, price increases to $120.)
If you need more info or still have questions, please keep reading below for more info or to listen to/download your first free introductory class.
Refund policy: All fees paid for tuition are non-refundable. Therefore, please consider carefully before enrolling. Rev. Dr. Cynthia wants to be sure that you are sure that this is a good fit for you BEFORE you enroll, which is why she has provided you with the free introductory class below in order to help give you a sense of what these classes might be like. If you have any questions that you might need answered about this teleclass series before enrolling, please feel free to e-mail Cynthia with your questions at cynthia@cynthiakillion.com. Blessings!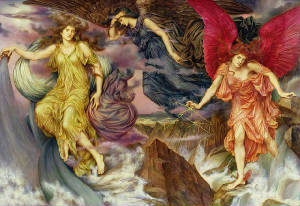 Opening to Your Personal Guides, More Info
This is a 3 week psychic teleclass apprenticeship taught by spiritual psychic Rev. Dr. Cynthia Killion (Psychic Cynthia) along with her guides, the Atlantean Teachers. The purpose of this series is to assist you in making communication with your personal spirit guides and angels and support you in building a relationship with your spirit team.
All classes in this apprenticeship series (other than the pre-recorded introductory class) are being conducted LIVE via telelphone so that you may participate no matter where you are at the moment.
Classes will also be recorded and available for playback later, so if you have to miss a call, you will have access to its recording usually within a few days of the live class.
(However, attendance on the live calls is strongly encouraged, since this will be your chance to actually interact, share, and ask questions if you would like.)
Why is this class series being called an "apprenticeship"? Because it is hands-on, interactive, and participatory.
To apprentice in a subject or skill means to undertake the work of actually DOING and DEVELOPING that skill. Therefore, this will NOT be just a theory or lecture class.
True, there will be some of that, but in each of the live classes, you will be invited & challenged to actually work along with the others in doing exercises to help you open to your personal guides. Some of these exercises will involve meditation (of course), but there may also be channeled writing, inspired movement, and simple divination exercises--all done during the live classes, while we are working together over the phone! (There will be homework between classes too--mostly more like FUN-work, because opening to your guides can be extremely fun & delightful.)
Because this is an apprenticeship class (and not just a theory or lecture based class) there is a tuition fee of $99 for the entire class series, assuming you enroll by or before Wednesday, February 14th--after this, the tuition fee increases slightly to $120, so please enroll in a timely manner. (The regular cost of psychic mentoring one-on-one with Rev. Dr. Cynthia is $275 per 60-75 minute session--with this apprenticeship class series, you get 3 live group classes total, each of which will be 60-90 minutes, for only $99.)
WHAT IS INCLUDED:
--3 live group teleclasses with Rev. Dr. Cynthia, during which you will have the opportunity to share & ask questions directly
--Access to downloadable course materials, including the Learn More About Spirit Guides, Angels, & Totems little book
--Access to recordings of live calls
--In addition to the recordings from the calls, there will also be additional bonus meditations made available to you as well
You will receive access to your first set of class materials upon enrolling.
If you would like to join us & be part of this live group teleclass apprenticeship, please use the Buy Now button above to pay your tuition fee & get enrolled. Thank You!
Still have questions? You can easily reach Rev. Dr. Cynthia via Facebook message or e-mail at cynthia@cynthiakillion.com.