Thursday, February 2, 2023
Imbolc (Imbolg) St. Brigid's Day Festival of Fire
IMBOLC (IMBOLG)
ST. BRIGID'S DAY &
FESTIVAL OF FIRE
STOKING YOUR SPIRITUAL FIRE
By Rev. Dr. Psychic Cynthia Killion
02-02-2023
Dear Cosmic & Psychic Friends, hello there, and Happy Imbolc and Happy Groundhog Day too! I hope that your year has gone well so far, and that your February is off to a fantastic and magical start.
February 1st and February 2nd together constitute the festival of Imbolc, also called Imbolg, St. Brigid's Day and even Candlemas. This is an ancient fire-based holy-day and seasonal marker going back to the ancient Celts (and perhaps even further back then that) that marks the approximate half-way point of winter. Although in some places where it is just a little bit warmer, it is thought to be the start of spring. I guess it depends on how long your winter is, smile.
In any case, the GOOD NEWS is that with each passing day, from this point onward, those of us in the Northern hemisphere can look forward to it get closer and closer to spring, with tiny new signs of spring emerging more and more every day.
(Such as a growing increase in the length of day, and the earliest spring flowers poking up through the still somewhat frozen ground.)
Imbolg (or Imbolc) is a festival of the Goddess in her fiery, warming, passionate yet nurturing and purifying form. Since in most places we still have a bit of winter before us yet, this is a good time for working with the element of FIRE to increase your PASSION and raise your energy & motivation….
If you have a fireplace, firepit, chimea or other type of fire-container where you can safely raise up a fire, you might take some time to do that in the next week or so ahead, to help stoke your inner fires, as well as the fire energy within your element bodies.
After you have lit your fire (in your fire-safe container), take a few minutes to gaze into the flames and commune with the fire spirits that you see there. It would also be a good idea to thank the Goddess herself for imbibing you with energy, passion, strength, courage and motivation to continue to THRIVE, even in the most challenging of circumstances.
If you don't have a large fire receptacle, you can still stoke your inner fire and honor the Mother of Fire and Light by lighting a single candle, or even several candles, if you would like. Once you have your candle lit (in the appropriate heat-proof container, of course), practice gazing at the candle flame and connecting with and strengthening your inner fire through its light.
Another way to work with the feminine fire energy of Imbolc is to go outside on a sunny, winter day and sit outside gazing at the sun and soaking up her light. (Although many places in the world think of the sun as a masculine deity, the further north you go on the planet, the sun becomes a FEMININE force of healing light.)
Whether you utilize a bonfire, candle or sunlight to commune with the spirit of fire, you may wish to sing or chant softly while doing your fire ritual. You can chant or sing whatever words or sounds you would like, and can focus on adding energy to whatever desire or life theme that interests you at this time.
Imbolc is largely a holiday of purification, cleansing and strengthening one's vitality, creativity and passion. So perhaps it might be a good idea to focus on one of these themes.
2:39 pm cst
Wednesday, August 3, 2022
Mars-Uranus-North Node Conjunction, Activation of Mother Earth Female Energies
The Uranus-North Node
Mars Conjunction of 2022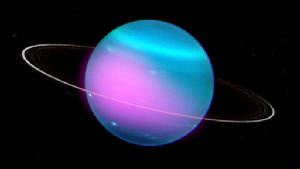 By Rev. Dr. Psychic Cynthia Killion
Originally written July 28, 2022 (Updated 08-03-2022)
To view Psychic Cynthia's recent video on this topic, you can go here.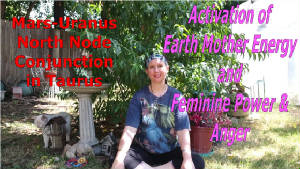 Change begins at the END of your comfort zone….
This is a POWERFUL and UN-SETTLING, but potentially LIBERATING energy, that has been in effect for the entire month of July. This shift will activate exact on July 31st and August 1st respectively at about 18 degrees Taurus.
The influence of this triple conjunction will be strongest between now and August 9th. However, the Uranus-North node conjunction (without the Mars part) continues to resonate strongly for all of August. Furthermore, to some extent, its energies will continue to be felt until early February of 2023.
This is a most POTENT shift indeed. This combination of energies may bring up a great deal of disturbance or chaos in your life, and at the very least, it will stimulate feelings of restlessness & dis-satisfaction…
The purpose of this shift is to create a DIVERGENCE in your life, to help you AWAKEN & EXPAND, and to encourage you to DETACH from your comfort zone and to move beyond anything which may be holding you back from growing and expanding….
In order to step out of your comfort zone, you have to let go of FEAR, and instead choose to live in the realms of TRUST & POSSIBILITY. In this way, you will be in the right mindset to best utilize the energies of this shift to attract wonderful new experiences and shifts into your life….
In particular, this shift will activate key happenings in your life that may attract new friendships, group connections, or community involvements. Some of these new connections could be pivotal & life-changing for you.
Because this shift is occurring in the sign of Taurus (18 degrees), you will likely experiences shifts, changes, and clarity around what it is you really VALUE in life. You may find that whereas previously you valued materialism and financial stability, now your values are starting to shift and you are beginning to appreciate the finer things in the cosmos more, such as music, art, spirituality, travel, good company, learning and creative development, and other mind-expanding experiences.
On the other hand, if things haven't been so stable for you in the last 15 years, you may find that you now seek a deeper sense of security and a feeling of safety in the financial or emotional realms. It really just depends on where you are starting from….
If you have previously managed to create a more solid and well-grounded foundation for yourself, then this may indeed be a launching off point for you into a much more cosmically-connected and expansive mindset.
In any case, where-ever you are currently at in your soul's journey, be aware that this potent Uranus-North Node-Mars conjunction is opening MULTIPLE portals of energy and possibilities at once. Its energy can be a bit unsettling and dis-orientating, so there may be a greater need for GROUNDING at the moment. On the other hand, if there was ever a time for stepping through a new doorway and starting a new chapter in life, that time is NOW!
Until next time, may you be blessed and uplifted, and may you have the courage to boldly walk through the new doorways that are calling to you.
3:34 pm cdt
Thursday, March 31, 2022
New Moon in Aries-Blaze Your Fire, Express Your Inner Light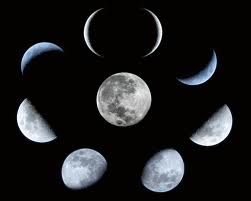 NEW MOON IN ARIES 2022
FORGE A NEW PATH
BLAZE YOUR LIGHT
By Rev. Dr. Psychic Cynthia Killion
Note: Tonight's new moon is exact at 1:24 am Central USA Daylight time on Friday, April 1st. (Which is basically late on Thursday night for those of who live in the United States.)
Dear Cosmic & Psychic Friends, hello there and Happy New Moon in Aries to You! Tonigh'ts new moon in Aries signifies a time of quickening, renewal and bold new beginnings. This is a very strong revitalizing and energizing influence that will emanate from now until the next new moon on April 30th.
This new month-long cycle focuses on new beginnings, having courage to try new things, and taking initiative. This is definitely NOT a time for sitting on the sidelines, but instead it is a time to jump right in and get some new experiences under your belt.
This Aries New Moon cycle is also a good time for experiencing a renewal & rebirth within your existing interests & passions. It's time to get off your tush and get back into the rhythm & activity of living life boldly & passionately again.
There is a greater receptivity to new ideas at this time. Even more importantly, there is a willingness to take a new idea and really run with it and do something with it or about it at this time.
Running is a good word to use here, because everything tends to speed up and accelerate during the Aries New Moon cycle. Patience is at a minimum right now. On the other hand, desire, energy, and enthusiasm are quite strong.
There is a bit of stubbornness and self-centeredness operating now too. We want what we want, we want it now, and we are willing to ram our head into walls and break through whatever is in our path to get it. If we get a little beat up in the process, then so be it, at least we have broken through that barrier or wall and are now free to move forward to forge a new path. So goes the thinking of Aries.
This combination of tenaciousness, recklessness, lack of self-restraint and enthusiasm can at times be surprisingly effective and bring results. Especially when you are attempting to blaze a trail or forge a new path in completely uncharted territory. This is true even when it is only unchartered territory for you personally, but even more so if the territory is mysterious & unknown to many others as well.
The old saying comes to mind, "Fools rush in where angels fear to tread". Meaning, a person without the usual self-restraint, judgement or so-called common sense of others sometimes finds themselves diving into a somewhat tricky situation or pursuing a path of action that is fraught with risk, danger or uncertainty.
Doesn't sound like the most sensible or wise path of action, I will admit. And yet….how many advances in culture & civilization have been won and forged by those who fearlessly dived in and walked the path where others before them where afraid to go?
How many new inventions, scientific advances or creative breakthroughs have been accomplished by those who were not afraid to tread into uncharted territory? How many successes have been won by those who weren't afraid to go where no one had gone before them?
When you really think about, you might even say that ALL such advances and breakthroughs were brought about by so-called fools who were not afraid to break down barriers and move in new directions. Whatever the field or the problem being tackled, these are bold pioneers, courageous people who heard the calling of their own souls and let that soul call be louder than their fears.
Reckless and foolhardy at times, perhaps. And yes, prone to making mistakes, not getting it right the first time, and having to try (and then try again and again) before finally finding the right true path for themselves.
But these were and are people of ACTION, people who have the COURAGE to heed the call of their inner selves and to take the journey to begin the quest. They believe in themselves and their calling against all odds, and do not allow the judgement or dis-belief of others to hold them back.
Dear One, do you have this kind of courage? More importantly, would you be willing, in some small way, to have this kind of courage and belief in yourself and your path during this next new moon cycle?
Perhaps you could try it on for size and get a sense of what it feels like to believe in yourself and your soul's calling so deeply. You don't have to try it forever, just for this new moon cycle of one month.
Would you in some way be willing to take a small RISK and step outside of your fears and doubts and invest in the development of your self and your dreams? For there is no gain without risk, no growth without sacrifice, sacrifice of your fears and your lower self that would hold you back.
Yes, this is a time of moving forward and new beginnings for us all. But remember, in order to have a TRUE new beginning, and not just a false start, it requires COURAGE and willingness to take ACTION. In other words, your path and your fate aren't just things that happen to you, but rather these are forces of creation that happen THROUGH you....
In order to truly move forward and experience sustained momentum, you have to be willing to keep stepping up to the plate each day, engaging in life, trying new things, and also cultivating and deepening your connection with those parts of your path that you really do love.
You might be feeling a little green and inexperienced, but you shouldn't let that stop you from trying something new or exploring something a little deeper that is interesting to you. Besides, you don't grow by staying inside the comfort zone. It's those moments where you experience challenges that hold the most potential for growth, if you are willing to rise to the occasion.
If you are willing, embrace this cycle of new beginnings. At the very least, do not sit still right now or stay on the sidelines. Now more than ever, this is a time to take action & engage with life.
In closing, I would like to say that Aries is a very self-reliant sign, and during this new moon cycle, you may be feeling that you need to do everything on your own right now or just focus on your own goals. Be wary of the tendency to close others out or to socially isolate, for there is much strength & energy to be gained by sharing your enthusiasm, dreams, and energies with others, and also partaking of the positive & uplifting vibrations of other beings, physical or non-physical.
A fire blazes brighter when it has many flames, not just one. Therefore, let your light be increased & amplified by sharing and coming together with others of like-minded brilliance and spiritual warmth.
Here's to re-lighting your spiritual fire, and reviving your passions & dreams!
Cosmic Love & Bright Blessings,
Rev. Dr. Cynthia Killion (Psychic Cynthia)
2:28 pm cdt
Friday, October 22, 2021
Reminder-New Moon in Libra means time to set intentions for next 6 months
Reminder:
Annual New Moon
in Libra Cycle
Means Time to Set
Goals & Intentions
for Next 6 Months Ahead
By Rev. Dr. Psychic Cynthia
10-22-2021
DON'T FORGET….
In addition to the recent full moon in Aries, and Mercury having just gone direct, we are also still in the Libra New Moon cycle up until November 4th. This is one of the most important new moon cycles of the entire astrological year, as it occurs close to the Fall Equinox, which amplifies & extends the effects of any goals or intentions that are set during this New Moon cycle.
This Libra new moon cycle ahead is definitely a time for moving and shaking and making major decisions in one or more areas of your life. In fact, now would be a good time for planting seeds & setting intentions for what it is you would like to see come to fruition in your life for the NEXT 6 MONTHS AHEAD, between now & Mid-march 2022.
Let me emphasize again here that the combined vibrations of the Libra new moon cycle, Aries full moon cycle, and recently passed Equinox are adding MUCH more energy & weight to any seeds you choose to plant right now or any new beginnings you choose to plan for or undertake.
To enjoy this (temporary) extra dose of Universal support, you can set your goals & intentions for progress & growth in ANY realms of areas of life that you would like. However, you will enjoy even MORE assistance from the
Universe at this time when you lean into the energies of Libra and choose to focus on one or more areas of life associated with Libra….
Libra is primarily associated with RELATIONSHIPS of all kind, including personal, professional and business-related relationships. Through its connection with its opposite sign Aries, Libra is also connected with balancing all other kinds of relationships with the need to have a good & healthy relationship with the SELF.
(For Libra is the sign of questing & seeking for balance and harmony in all areas of life, but especially in regards to RELATIONSHIPS.)
To best align with these powerful energies over the course of the next 6 months, think about how you can be more giving & sharing with others, while also developing a deeper sense of being in connection with your
truest self.
This last part is very important—for if you are only giving to others in ways that make you feel dis-connected from your true self, it is not giving, but is instead a form of slavery and self-immolation.
Libra is associated with the balancing, weighing and reviewing of past actions and karma. Libra is not the balanced sign, but rather, it is the sign of BALANCING and RE-BALANCING.
With Libra, there is a tendency to swing from one extreme to the others (like the old-fashioned balancing scales). Yet the karmic mission of Libra is to continually seek for and discover (and re-discover) the most perfect sense of balance & integration that it can inlife.
During this annual time of New Moon in Libra cycle, we all have an opportunity to review our lives and seek for a greater sense of balance and integration. Now is the time to set your goals and intentions for the next 6 months ahead, with a clear eye as to how you will feed & improve relationships, as well as achieve greater balance in the professional, career, and other realms of life.
12:34 pm cdt
Tuesday, September 14, 2021
New Moon in Virgo Cycle (from Sept 6 to Oct 6 2021)
NEW MOON REPORT
NEW MOON IN VIRGO-
Time to Organize, Cleanse,
& Get Back On Track Again
Reprinted from Cosmic Newsletter
published/sent September 6th, 2021
By Rev. Dr. Psychic Cynthia Killion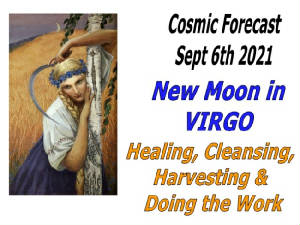 QUICK PREVIEW OF THIS EDITION:
Happy new moon in Virgo! This month's new moon was exact tonight (Mon Sept 6 2021) at 7:52 pm Central daylight time. This is the beginning of a new cycle of creation & manifestation that lasts all the way up until the next new moon on October 6th.
Virgo is a cleanser, gardener, healer, server, and organizer, so expect these areas of your life (and aspects of self) to be highlighted over the next four weeks. Now is the time to set out to make changes & new beginnings in these Virgo related areas in the month ahead. This Virgo cycle is definitely a cycle of growth & productivity in many areas.
HOWEVER…Keep in mind that we do have MANY planets in retrograde at the moment, so new beginnings made during this next month may take more time than usual, and require a bit more patience on your part.
Please continue reading below for more info.
Video Forecast for September 2021:
This video will give you an overview of the flow of energies in this month ahead, including Mercury retrograde that is coming into play later this month.
New Moon in Virgo-
A Time of Getting Organized & Back on Track
Separating the Wheat from the Chaff
Dear Cosmic & Psychic Friends, hello there, and Happy New Moon in Virgo!
This New Moon in Virgo is the beginning of a new cycle of creation & manifestation that lasts all the way up until the next new moon on October 6th.
This new cycle will bring your attention to the need for new beginnings & adjustments in the realms of work, service, organization, efficiency, spiritual discernment & discipline, health, diet & nutrition, household & garden duties and improvements, and connection to nature and the plant realm.
Writing, self-improvement, studying, healing, and prioritizing goals are other areas that could be activated for you during this new cycle.
Virgo is a very BUSY sign that revels in fixing things and getting stuff done. Don't be surprised if you suddenly find yourself quite busy indeed over the next few weeks!
The modern symbol for Virgo is the Virgin, symbolizing purity and purification. The more ancient symbol for this sign is the wheat harvester or harvester maiden, symbolizing the fertility, productivity, and discernment of this sign.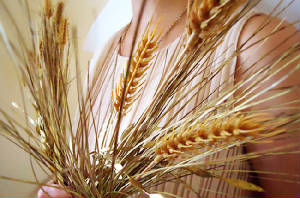 Virgo is the part of the soul that separates the wheat from the chaff. Meaning, this sign has a critical & discerning eye that is able to recognize what is practical, valuable, and useful, and what is not.
This aspect of Virgo compels you to examine your life and recognize what is worth keeping and strengthening, while also purifying and clearing away that which no longer serves you.
Sometimes Virgo can go a bit too far with its critical eye. When this happens, discernment sharpens into pessimism and self-doubt. Virgos are their own worst critics. Even though they can be critical of others, they are usually far harder upon themselves than others. They hold themselves to very high standards, standards that are usually impossible to meet.
While we are under the influence of this new moon in Virgo, it is important to remember to be GENTLE with your self and others.
Virgo also represents the quest for self-improvement & perfection. And yet, the more one tunes into the energies of one's inner Virgo, the easier it is to see the flaws and imperfections in life.
Again, remember to be gentle with yourself and others. Also remember that even if something seems less than perfect, it can still represent improvement & progress in some way, and it can still have value & worth.
In fact, sometimes it's the imperfections that creates something truly beautiful and unique.
A NEW CYCLE OF CREATION BEGINS
(With a few complications)
Each month, the new moon signals a time of NEW BEGINNINGS & GROWTH. This is also a time of RE-emergence and RE-activation after the quieter and more restful energies that take place in the week directly before the new moon.
The new moon is usually your signal that it's time to get mobilized again and set your goals and intentions for the lunar month ahead.
However, this particular new moon is also occurring against the backdrop of 6 major planetary retrogrades. With the planetary emphasis on retrograde energy at the moment, there is also a need to review, re-assess and go back and re-cover old ground…while at the same time moving forward in new ways with your existing projects, goals, or dreams.
So even though the lunar tide is now ripe for starting things & instigating change, you may find that things take a little bit longer than you thought, or that you have to go back and re-work your plans more than once.
Also, with all this retrograde energy, it is possible that you may be more focused on shedding & extricating yourself from existing situations at this time, rather than trying to instigate new beginnings.
Virgo is a sign of cleansing & purification. So if closing a chapter or tying up loose ends is a higher priority for you this month (rather than starting new things), that should work well with the energies of this new moon cycle too.
SETTING YOUR INTENTIONS
FOR THIS NEW CYCLE AHEAD
The new moon is traditionally viewed as the OPTIMAL time each month for setting goals & intentions for the month ahead. When setting intentions for this lunar month ahead, it's best if you choose just 1-3 important goals or intentions that you can easily make progress on in the next 3-4 weeks.
Since this is only a month long cycle, it's best that you do not choose something too big or too complicated for your new moon intentions. Keep it manageable. If you are working on a larger project or towards a grander goal, then just break it down into smaller steps, and choose 1-3 of those to work towards this month.
It is also best if you WRITE these goals & intentions down somewhere that you can easily see them often. This will help you to stay focused so that you actually make progress towards your goals in the month ahead.
In terms of TIMING, most astrologers say that the best time to set new intentions for the new moon is within 8 hours of its actual occurrence. However, my psychic sense & my actual experience has shown me that the window for setting new moon intentions (and harnessing its energies) is MUCH larger than this.
From my own personal experience with working with the lunar cycles for guidance and manifestation for over 30 years now, you have about THREE FULL DAYS from the time the new moon occurs to set your new moon intentions.
As long as you set your intentions or goals and plant the seeds for new growth within 72 hours of the occurrence of the new moon, you will be good to go, and can still harness the power of the new moon energies.
In fact, if you are like me, and you tend to get a little bit emotionally sensitive or low on energy right around the actual time of the new moon, you might actually PREFER to wait until about 12-24 hours AFTER the new moon has hit exact to set your new moon intentions. (This will help ensure that you are in a clearer head & heart space when you set your priorities for the month ahead.)
This month's new moon took place at 7:52 pm Central Daylight USA time on Monday, September 6th 2021. Utilizing the 72 hour rule, that means you have until just before 8 pm (Central Daylight USA time) on Thursday, September 9th to set your new moon intentions & goals for the month ahead.
(Of course, you can set goals & intentions whenever you want, but this is the window of time for doing that if you want to harmonize with the lunar energies for this month to help support you in your intentions.)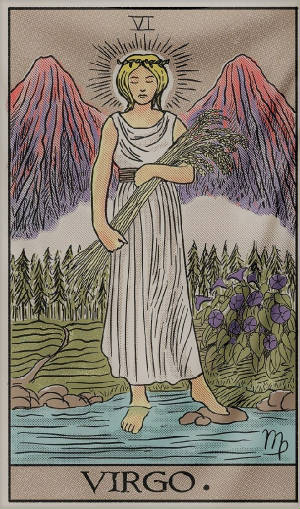 ALIGNING WITH VIRGO ENERGY
You can set your new moon intentions & goals for this month in ANY area of life that you would like. However, things will flow more easily & efficiently for you in the month ahead if you choose to focus on goals that align with the natural energies of the sign of the new moon.
As mentioned above, Virgo is associated with many realms of life, including work, health, daily-routines, service, and connection with animals and pets.
This month's new moon will draw your attention to where you need to get more organized in your life & build a better framework.
It also provides an opportunity for new growth and setting goals in the areas of work, health, diet, fitness, service, writing, organization, discipline, and any other realm of self-improvement. (Virgo's specialties are self-improvement & organization.)
To better align with the energies of this new moon cycle, you can set goals & intentions in any of the above-mentioned areas.
Virgo can be a bit of a FIXER too. So don't be at all surprised if you find yourself taking on new projects or finally dealing with long-term projects that you have been putting off. This Virgo new moon cycle is particularly good for fixing and dealing with household or work challenges.
But just be sure that you what you are trying to fix is something within your own life, and not someone else's. As no matter how much you want to help, you usually can't fix another person's problems for them. Of course, you can offer appropriate support & encouragement, which is different than trying to fix them or their problems.
Virgo has an element of drudgery to it, as it is good with dealing with things like housework, paperwork, and just WORK period. Virgo likes things to run smoothly & efficiently, and now is a good time for figuring out how you can do some of your daily tasks more efficiently.
This is also a time that is associated with CLEANSING, RE-ORGANIZING, AND RE-CALIBRATION. There is a need for deep level cleansing, healing or re-arranging in one or more areas of life right now. This cleansing & re-arranging may need to take place on a physical level (home or physical body) OR it may need to take place on an emotional, mental, or spiritual level, or even on MULTIPLE levels at once.
This need to cleanse and release is amplified by the energies of all the retrograde planets that we also have at the moment.
Overall, it's time to get re-organized and back on track with your vision or goals. It may also be time to re-prioritize how you utilize your time. Having meaningful routines & daily habits are important right now. Virgo enjoys categorizing and list-making, so this is also a good time to take inventory of your life and make lists of plans, to-dos & goals for the months ahead.
Whatever it is you are growing and creating in your life at the moment, whatever you are focused upon, now is the time to tend to important details, get back with the program, be more organized, and GET STUFF DONE!
In this month ahead, embrace your inner Virgo, and open to the guidance and direction of this wise & discerning inner maiden. Until next time, I'm wishing you a blessed & bliss-filled new moon cycle ahead!
>>>>>>>SUBSCRIBE to the Cosmic Newsletter to receive more updates like this.
3:26 pm cdt