Saturday, April 10, 2021
New Moon in Aries-Something Stirs Within You
Dear Cosmic & Psychic Friends, we are about to have the annual New Moon in Aries, a time of bold & fiery new beginnings. I've written/channeled a short poem for you, in order to help activate the Aries energies of renewal and rebirth within you. As you read the poem below, softly say the words to yourself out loud, and allow the energies of Aries to activate and stir to life deep within your inner self. Happy New Moon in Aries, Happy Spiritual & Emotional Rebirth!
Love & Blessings,
Psychic Cynthia
(Poem Follows Below)
~~~~~~~~~~~~~~~~~~~~~~~~~~~~~~~
New Moon in Aries-
A Time of Quickening & Renewal
by Rev. Dr. Psychic Cynthia Killion
completed 04-10-2021
Something rumbles,
Something moves,
Something stirs
Within
the Seed
(within you)
Cloaked in dark,
Soaked & marinated
in the Earth
The Sprout emerges
New life bursts forth
Tender, vulnerable
at first….
And yet
Full of hope
Full of promise
New beginnings
Pulsing with vitality,
Energy,
An inner warmth
Ready to begin
Again
Ready to conquer
The inertia of fear
Guided by courage
Guided by passion
The will to live
is strong….
The will to THRIVE
to carry on
to take action
the will to learn,
to create,
to experience,
The will to
REACH
and GROW.
10:34 am cdt
Sunday, March 28, 2021
Spring Altar Re-Do: Bring in New Energies & New Blessings
Bring in New Energies & New Blessings
with a Spring Altar Re-Do
By Rev. Dr. Psychic Cynthia Killion
March 28th 2021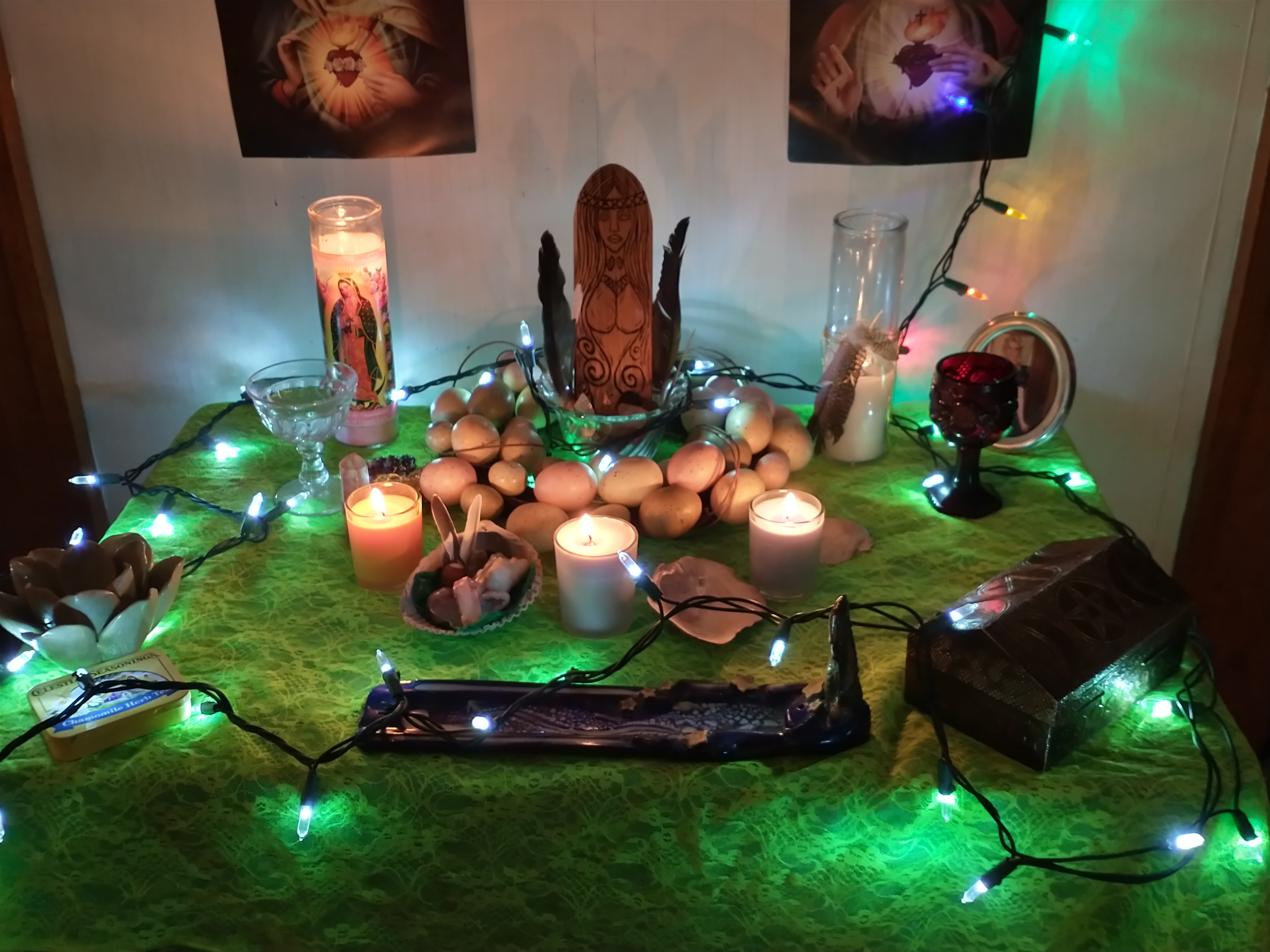 The Spring Equinox is only a week behind us, and already there are signs of new life sprouting up everywhere. Nature is changing, re-arranging, and re-awakening from her winter time slumber. Each spring, Nature also brings her cleansing rains to help wash away the hardships & debris of winter, and open up pathways for new growth. We humans are creatures of nature, and so we too often experience the need for some kind of special cleansing or re-activation in early spring.
One of the spiritual-psychic cleansing related practices that I like to do around the Spring Equinox is to completely re-set my home altar with a new spring theme.
If you have an altar in your house, then you probably already know that when your altar is in good condition and in harmony with the current energies, then your overall quality of life is likely to be higher and flowing well. On the other hand, if you leave the objects on your altar to sit too long without touching or moving them, or if let your altar get dirty or dusty, then most likely you will start to feel greater stagnation internally, and also experience more challenges & set-backs in your daily life.
This is an example of an application of the ancient wisdom teaching, "As above, so below." The condition and state of your spiritual home altar reflects and influences the condition and state of your overall life, and vice versa. This is why it is more difficult to be focused & clear on your path when your home altar is in a state of disarray. Conversely, when you are experiencing chaos & distress internally, you are more likely to neglect the care of your home altar, and also the care of your home in general.
Whenever you feel stuck, frustrated or limited in a specific area of life (or even frustrated with life in general), sometimes you can open up the energy in that area just by tweaking something small on your altar or cleaning it up.
Doing an altar tune-up like this can make a HUGE difference in your emotional state, as well as positively impacting the overall energetics of your life situation. This is why I usually tweak & adjust my altar at least once a month, and do a big change out around most of the major seasonal holy days.
Even if you are not feeling particularly stuck or down at the moment, it is a good idea to refresh and change out your home altar at least once every season. When you do this, this helps you to synch up your own internal energies with the energies of the new season. This is especially true in the early Spring, when the rhythms of Nature move into a cleansing and release cycle, which opens the pathway for rebirth. You can better align with the spiritual energies of this season by making a clean sweep and fresh start in various areas of life, including with your home altar.
I myself recently spent a couple of hours on the evening of the spring equinox stripping everything off my altar and then re-building it completely to reflect this time of SPRING RENEWAL that we are now in.
As soon as I had completed the work of creating my new spring altar, I noticed immediately that the energies in my house felt lighter & brighter. As I kneeled before my new spring altar set-up and consecrated it with prayer, I could feel chunks of heavy winter energy dis-lodging from my aura and gently dissolving into the light of the candles on the altar. I also experienced a renewed sense of optimism and courage flowing through me. Suddenly, so much more seemed possible in life. The shift I felt truly was immediate & amazing!
You too can experience a powerful shift and renewal in your life this spring, by taking the time to update and clean your home altar soon.
5:07 pm cdt
Saturday, March 13, 2021
New Moon and Your Monthly Rebirth
New Moon & Your Time of
MONTHLY REBIRTH
By Rev. Dr. Psychic Cynthia Killion
March 13, 2021
(Written on the day of the PISCES NEW MOON,
an appropriate day for reflecting on
the spiritual cycles of the moon)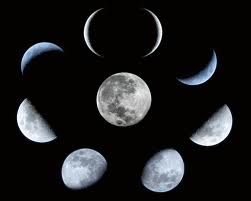 Dear Cosmic & Psychic Friends, Happy New Moon! This ushers in the beginning of a new month-long cycle of rebirth & renewal for us all.
The new moon is the beginning of the lunar cycle each month, for this is the time when the moon reaches its lowest energies and then aligns with the sun and earth, and is reborn. We too experience a time of rebirth around the new moon each month. And with each passing day, as the moon re-gains its visible radiance & light, we will also regain a greater sense of energy, momentum, and productivity.
From the new moon forward to the full moon (and for even a few days after that), things will really begin re-energizing & picking back up again!
And yet, the lunar energies are at the LOWEST at the time of the New Moon, which means that you may require additional rest and sleep around the time of the New Moon. This need to have additional rest may continue for even a few days AFTER the New Moon, up until the time that the visible moon re-appears again in the sky as the crescent….
At the exact time of the new moon, the light is veiled from us here on earth, and we see only shadows and darkness where we will see moonlight later in the month. It takes a few days after the new moon for the moon's light to re-appear in the form of the crescent moon. (Indeed, in some places in the world, they call the time of the new moon "the dark of the moon", and what they call the new moon is the crescent when it first appears.)
This can give us deeper insight into the workings of this cycle. The exact day of the new moon may not actually be the best time for beginning new projects or trying to tackle something major, for the moon's light is still invisible for a few more days yet at this time….
The time of the new moon (including a few days afterwards) is a good time for accomplishing SMALL steps towards a goal, tying up loose ends, and putting the finishing touches on laying the foundation for your next major move.
On the other hand, if needed, this can also be a good time for just continuing to lay-low for the next few days, relaxing and getting rested up in preparation for the busy weeks of productivity that will begin here again shortly.
SETTING YOUR NEW MOON INTENTIONS
In particular, the New Moon is considered a powerful & effective time for setting goals & intentions for the next 3-4 weeks ahead.
This is a time for reflection and clarification of your deepest goals or desires for the month ahead. If you can, take a moment to pause & reflect on what it is you would like to accomplish over the next 3-4 weeks. Then write down a goal, intention, or affirmation that clearly encapsulates the energy of what it is you would like to achieve.
When creating your moon intentions or affirmations, it helps if you stay focused on just 1 or 2 objectives for each New Moon cycle. After all, we are talking about a cycle that is only about 29 days long.
In addition to getting clearer on your goals & objectives, the day of the new moon (up until 2-3 days afterwards) is also a good time to continue focusing on CLEANSING & PREPARATION for the time of increased productivity coming in the weeks ahead. This is an excellent time for getting organized and tying up loose ends, while you await the return of energy & light that comes with the crescent moon in a few days.
Then when the lunar light returns again in a few days, you will be organized & prepared and ready to kick into high gear again. Happy Rebirth & Renewal!
>>>>>>Click Here to Subsribe to Cynthia's Cosmic Newsletter and receive more updates like this relating to the cosmic energies....
4:42 pm cst
Saturday, February 20, 2021
Welcome to the Deep Waters of Pisces!
Welcome to the time of
the Deep Waters of Pisces
by Rev. Dr. Psychic Cynthia Killion
(adapted from FB post on 02-18-2021)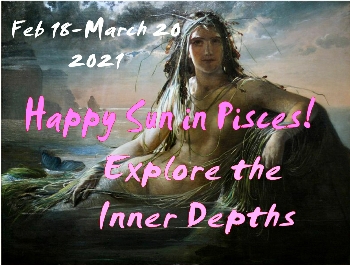 Welcome to the time of Pisces! Yes, the sun entered Pisces earlier this morning. This is the 12th and final sign of the zodiac, marking the last month and "old age" of the astrological New Year. Thus, it is a sign of great wisdom, as well as deep feeling. During the time of Pisces, many of us (regardless of our signs) find ourselves plunging into the well-spring of deeper feelings & emotions.
This time of sun in Pisces reminds me of a poem by the great Sufi poet Rumi, called the Guest House:
The Guest House
This being human is a guest house.
Every morning a new arrival.
A joy, a depression, a meanness,
some momentary awareness comes
as an unexpected visitor.
Welcome and entertain them all!
Even if they are a crowd of sorrows,
who violently sweep your house
empty of its furniture,
still, treat each guest honorably.
He may be clearing you out
for some new delight.
The dark thought, the shame, the malice.
meet them at the door laughing and invite them in.
Be grateful for whatever comes.
because each has been sent
as a guide from beyond.
-- Jelaluddin Rumi,
translation by Coleman Barks
Such are the wide range of feelings that we may experience while the sun is in Pisces!
Pisces is also a naturally psychic and empathic sign with permeable boundaries. Rather than just having its own single identity, it contains the energy & vibration of ALL of the other 12 signs combined. It is also sensitive to the energies and vibrations of others around them. Perhaps this is the reason why many Pisces find it hard to define their own sense of self, but rather tend to adapt their self to whatever situations or relationships they find themselves in.
During this time that the sun is in Pisces, you may find your own boundaries blurring just a bit. This is not necessarily a bad thing, in that it is possible that you may find a deeper level of COMPASSION than before, and your heart chakra may open up just a little bit more.
Of course, you don't want to allow others to abuse you or use you like a doormat! The key is to come from a place of love and acceptance, while following and staying true to the path of your own Inner Mystic & Inner Muse (both Piscean concepts). If you do this, if you stay true to your own inner eternal self, while also honoring the eternal selves of others, then you will experience the inner BLISS & ECSTASY that is such an integral part of this vibration we call Pisces.
Happy Diving down into the deep realms of Pisces!
10:25 pm cst
Wednesday, January 6, 2021
2021-New Year, New Energies
2021 New Year, New Energies
by Rev. Dr. Psychic Cynthia
01/06/2021
Welcome to this New Year of 2021!
The energies in 2021 are quite a bit different than the energies for 2020. For one thing, in 2021, we won't be under the heavy & restrictive mantle of several planets in Capricorn any more. For heavy karma, restrictions, and limitations are integral parts of the energy of Capricorn, and Goddess knows many of us felt and experienced this side of Capricorn in 2020. So it will be good to be (mostly) leaving this energy influence behind for a little while, and it will be especially delightful to be freed of the Saturn-Pluto conjunction in Capricorn.
In terms of collective energies, Capricorn is useful for giving us a reality check from time to time, and also exposing and bringing to the surface authoritarian or totalitarian influences. (Both within ourselves, and others.) Capricorn transits are also some of the very best for flushing out KARMA and helping us to grow by facing our limitations. And many of us certainly did face limitations in 2020. Hopefully we were able to grow somehow or learn something from dealing with those limitations in 2020, even if what we learned was simply how to maintain hope & optimism through difficult times.
WILL 2021 BE "BETTER"?
Of course, the question that is on every one's mind is will 2021 be better than 2020?
I think that depends on how you are looking at it and at which level of reality you are speaking of. In other words, are you looking at it in terms of what is going to happen in the physical world (in other words, actual events) OR are you looking at it from the emotional, spiritual or mental perspective?
If you are looking at the year ahead from the emotional, spiritual, or mental perspective, I would say that 2021 definitely holds the potential to be MUCH better than 2020, or at least, LIGHTER & MORE EXPANSIVE, more free & light-hearted, since we have more of an emphasis in the AIR signs in 2021 than we did in 2020. That is the good news, and it is very good news indeed!
FIXED SIGN ENERGIES
Now, if you are looking at the year ahead in terms of larger geo-political or social events, and if you are wondering if governments will be better in 2021, or if people will be kinder to each other or more understanding and tolerant, well, let me just say that this is where it gets more complicated….
Although Air energy is definitely emphasized in 2021, there is a concentration of energy in the FIXED air sign of Aquarius, which happens to be forming a tense square aspect to Uranus in fixed & very dense earth sign Taurus.
This kind of tense & stressful focus on fixed energies tends to bring forth greater STUBBORNESS, RIGIDITY, INFLEXIBLITY, and SELF-RIGHTEOUSNESS. Definitely NOT the kind of energy that is particularly conducive to understanding, kindness, unity, or tolerance. Furthermore, this is not a very peaceful or harmonious energy.
Due to this predominance of fixed sign energy, expect people in general to continue to butt heads in 2021 and to continue to vehemently disagree with each other when there are differences, rather than having calm, logical or peaceful discussions. There is an aspect of the fixed sign energy that comes from the "my way or the highway" perspective, making it harder to find common ground at this time.
This is not to say that peace & harmony are not possible in 2021, but rather that it will take conscious effort and work to achieve mental harmony & balance in 2021. This is true for each of us as individuals, and it is even MORE true for our world as a collective.
If we are to minimize violence and dis-harmony in the outer world in 2021, then we must focus on making the effort to be flexible, gracious and understanding in our interactions with others, rather than being overly attached to being "right" or attempting to convert others to our point of view.
In the context of these energies, the highest goal that we can strive for in 2021 is to take charge of our own minds and choose to deliberately create peace & wisdom within, so that we may then move through the world with a deeper sense of humility, understanding and peace. In this way, we can help to awaken the higher consciousness of the collective, and in doing so, create greater peace, harmony, and abundance in our own lives.
A BLAST OF AIR ENERGY
In 2021, we have a concentration of energies in the earth & air elements, especially air.
Air energy is light, flowing, and conducive to mental breakthroughs, insights and fresh perspectives—at least, when it is gentle & circulating well. Air can also be fierce and wild; it can become stagnant or stale if it doesn't move enough or get to express itself enough.
In astrology, the air element is associated with communication, mental processes, thinking, thought forms and consciousness. In particular, Aquarius (which is the air sign being most activated this year) is connected with the higher mind and higher thinking. It embodies the flash of intuitive insight & sudden mental breakthroughs. Aquarius is also associated with electricity, frequency and vibration….especially the frequency and vibration of human thought.
In 2021, the emphasis on Air energy can bring us bright and brilliant insights with a breath of fresh air, OR it can leave us feeling unable to breathe or stuck breathing stale energies. It all depends on your unique circumstances, and even more, it depends on how easily you express yourself on the mental level, and how balanced you are mentally & emotionally.
****This is a year to be mindful of the power of your thoughts, and more deliberate & conscious about which frequencies you are dialing into and what vibration you are subsequently giving off in this world as a result of your inner mental frequencies.******
EARTH ENERGY BRINGS US BACK TO REALITY
There is tension this year between Saturn in airy Aquarius and Uranus in earthy Taurus. While Aquarius is a free-spirited air sign, Taurus is a grounded & rooted earth sign. Uranus is the co-ruler of Aquarius and is usually thought of as a free-spirit hippie or perhaps a passionate revolutionary. But here in the earthy sign of Taurus, Uranus is charged with reform of a more practical nature, and must be responsible and figure out how to feed & clothe the people and how to keep the farms & gardens growing well.
Change with Taurus is slow and steady, with tried & true methods being favored over experimental ones. Whereas Saturn in Aquarius demands that we innovate, break out of ruts, and explore new possibilities for doing thing and new technologies.
Taurus is resistant to change. But then, Taurus is also good at doing what it does, which is feeding & nurturing us and ensuring our physical & material survival. Aquarius longs to enhance life and free us from drudgery through technology and higher spiritual connection. It may take time for the Taurus part to come around, but eventually Taurus & Aquarius might meet in the middle and realize that they share a common goal, which is the improvement of daily life for us all.
This tension between earth & air in 2021 could impede or challenge our ability to express ourselves freely. We may feel at times that we are being held back from being our true selves, or that we have to do certain things that we do not like or conform to a norm that we do not like, just in order to survive.
In particular, with Saturn in Aquarius, we may experience frustrations & limitations with our ability to communicate, travel, or feel limited in our ability to fulfil our higher purpose.
On the other hand, we may find Saturn in Aquarius to be an ally & helper, for Saturn here can bring focus, determination, and discipline to help with expressing yourself, fulfilling your purpose, and doing what it takes to make your dreams come true.
Uranus in Taurus could be a friend too, if we let it remind us of the need to stay grounded and honor our connection with nature. Indeed, a new kind of revolution may be needed at this moment, one where we change our consciousness & thinking about our relationship with both nature and technology.
Both Aquarius & Uranus have connections with metaphysics, higher science, humanitarianism, and technology, as well as astrology. Tech will continue to be more of an issue in 2021—only instead of being looked at as something cool and cutting edge that is "fun", we will start to view tech more and more as something that has become necessary to earn an income or ensure survival.
More on the energies of 2021 in subsequent Cosmic Newsletters.....Stay subscribed so that you get your regular updates.
Bright Blessings!
9:12 pm cst