Monday, August 5, 2019
Mercury Direct-but still in the storm & shadow for a while yet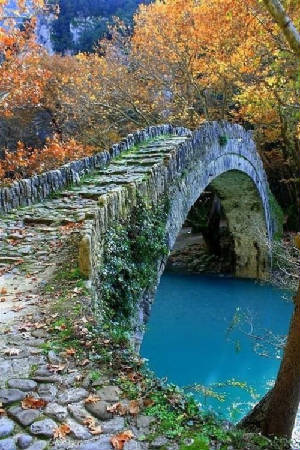 Mecury Direct...
But Still in Post-Retrograde SHADOW
for a Little While Yet
By Rev. Dr. Cynthia Killion (Psychic Cynthia)
August 5th 2019
Dear Psychic Tribe Friends, hello there and Happy August! Mercury went back direct last Wednesday, and although it is still in its post-retrograde storm until this Thursday (August 8th), it's nice to have a sense of forward-moving motion again—even if progress is still moving slower than one would like in one area or another.
(I particularly noticed the effects of the post-retrograde storm today, when I was trying to drive from one side of the town to the other—I was nearly stopped by a REALLY long train, and then having barely escaped that, I had to drive much slower than usual on part of my route because the utility workers were up on cranes working on several power lines for about a block or two—such is the delaying power of the post-retrograde storm of Mercury!)
It will take a little while yet for the energies to regain that sense of lightness & momentum that most of us prefer, since even though Mercury is officially direct again, it still has to get past its post-retrograde storm (August 8th) and then through its post-retrograde shadow (August 15th) before life will regain its so-called normal pace again and a sense of deeper equilibrium & solid footing will set back in. For now, situations are still in flux and up in the air a bit, and a combination of trust & perserverance may prove to be most useful allies.
As always, PATIENCE is the skill that is needed to help one recover from the challenges of Mercury retrograde and to THRIVE in the days immediately after—patience, FORESIGHT, WISDOM, and a relaxed go-with-the flow attitude are the best "weapons" we have to fight against falling into hopelessness or despair in challenging energetic times.
Most of all, we must be patient with OURSELVES and what we perceive as our own short-comings or the short-comings of our situations. We can't expect things to instantly turn around overnight for the better just because Mercury recently went direct—it takes a little while for the dust to settle and the cosmic framework to re-arrange & straighten itself back out again after a retrograde, just as it takes some time for each of US to re-arrange ourselves and re-gain a firm sense of footing & direction again after being energetically jostled and tumbled around.
And just HOW LONG will it take for us to re-gain our energetic footing again? Well of course that will vary a bit from person to person—but in general, you likely will start to feel as if you are standing a bit more on solid ground come this Thursday (August 8th) when Mercury leaves its post-retrograde storm. At the very least, you will begin to have the feeling that some RELIEF is in sight and that PROGRESS is at least POSSIBLE.
Prospects & moods will continue to lift more and more as the month of August goes on, and you may notice a significant lift in your energies (and reality) after August 15th, when Mercury finally passes back over its post-retrograde shadow. But for NOW, we are still firmly in the shadow of the post-retrograde, which is why although we have seen some improvement and lifting of the moods, there is still a bit of that "thick & syrupy" shadow energy to be dealt with.
Not to mention that Saturn will continue to dance in a conjunction with the South Node in Capricorn for this entire month of August, bringing up difficult karmic issues & limitations—obstacles may seem insurmountable right now, and even the most optimistic may be tempted to lose faith this month, especially while we are still under the post-retrograde shadow of Mercury retrograde between now & August 15th.
But even the most dense & heavy of energies must eventually LIFT a little, and as we move into the 2nd half of the month, it is likely that moods & energy levels will elevate and gain a more positive momentum. (At least in terms of the residual clouds of confusion, delays & miscommunication of Mercury retrograde finally lifting.)
For now, you may still be feeling a little tired, worn-out or discouraged from challenges or limitations that you have been facing since back when Mercury was retrograde (July 7th-July 31st). But those clouds will soon be lifting & departing! (Indeed, now that Mercury is officially direct and will soon be out of its post-retrograde storm, the clouds are already beginning to thin.)
If it's been tough for you recently, don't lose faith! Instead, prepare to make your COMEBACK soon. (smile)
Until next time, wishing you all the joy, ease, abundance, love and good health that you are willing to receive, and a graceful return of progress, forward movement & momentum.
Bright Blessings,
Rev. Dr. Cynthia Killion (Psychic Cynthia)
9:58 pm cdt
Monday, June 24, 2019
Mercury Retrograde July 7-July 31 2019
MERCURY RETROGRADE COMING UP SOON!
A TIME TO STAY THE COURSE & FOLLOW THROUGH
(or just relax for a little while and let yourself have some FUN)
from 06-25-2019 Cosmic Newsletter
by Rev. Dr. Cynthia Killion (Psychic Cynthia)
In any case, if you are receiving this Cosmic Newsletter from me, then that means that we are back up on-line & running again! And just in time, since Mercury recently entered its pre-retrograde shadow, and will soon enter its pre-retrograde storm on this Friday (June 28th). Even though the Mercury retrograde proper does not technically begin until Sunday, July 7th, most of us begin to experience some of the effects of Mercury retrograde as soon as this PRE-retrograde storm begins.
This next upcoming Mercury retrograde officially runs from Sunday, July 7th through Wednesday, July 31st. But remember that the pre-retrograde storm begins on this Friday, June 28th! So basically the ENTIRE month of July is under the influence of the effects of Mercury retrograde, to one degree or another.
And just what are the effects of Mercury retrograde? You could say that when Mercury goes into retrograde, basically the cosmic equilibrium gets knocked around a bit, and there is a feeling that progress slows down or becomes more difficult. It is a bit like walking through a fog or haze. Confusion and break-downs are more likely in the realms of communication, transportation, technology, scheduling and traveling planning during the time that Mercury is in retrograde.
This is why I always take the dates of Mercury retrograde into account when planning for major projects or events. Whenever possible, I don't start anything completely new during Mercury retrograde, as experience has taught me that starting completely new projects or endeavors during Mercury retrograde can be fraught with many inconveniences, and can sometimes be downright painful.
Do notice that I said that I prefer not to start anything "completely new" during this time. This doesn't mean that I don't do anything all when Mercury is in retrograde—quite the contrary.
In fact, some of my finest achievements in life have been completed during a Mercury retrograde time. Not to mention, I have taught MANY successful classes and workshops during Mercury retrograde. The key to being successful during Mercury retrograde (and staying at least moderately productive) is in staying the course and following up & following through with something that has either ALREADY been started, OR something that you have been planning for or wanting to do already for some time BEFORE Mercury went retrograde.
This implies that you ALREADY had some kind of plan or vision in place BEFORE Mercury went retrograde that you can now do your best to follow through with. At the very least, you had a sense of your overall driving interests and the direction you were moving in BEFORE Mercury went retrograde. If you just do your best to keep moving in that direction, and don't let yourself get distracted by trying to take on something new that is too heavy right now, well then, you will do just fine for the next few weeks. (Even with all the minor curve-balls that Mercury might be throwing your way.)
By the way—distraction isn't necessarily a bad thing during Mercury retrograde. Especially if it is distraction for fun and relaxation. In fact, distraction for fun & play is favored during Mercury retrograde, as long as it doesn't involve you signing a long-term contract or undertaking a major excursion. Mercury retrograde is the BEST time for taking a break and relaxing and letting yourself cut loose a little from your burdens & responsibilities. True, it's not the easiest time to travel (since travel delays are common during Mercury retrograde). But then again, travel can go just fine during Mercury retrograde if you aren't on a tight schedule and can release the reins a little and be flexible and adaptable. (And if you aren't good at those things—well then, Mercury retrograde will most likely teach you a little something about being flexible & adaptable, lol.)
Keep it LIGHT and SIMPLE if you can during Mercury retrograde—this applies to play, as well as work. Whatever you plan on doing during these next few weeks, try to keep your expectations loose and open. Yes, stick to the plan whenever you can (meaning, the plan you had in mind already BEFORE Mercury went retrograde), but then don't be surprised at all if things turn out differently than you expected, since after all, Mercury is a bit of a trickster sometimes. (smile)
Whatever it is you are planning on doing (or trying to do) during this Mercury retrograde cycle, it will help if you do it with a spirit of joy, openness and exploration. Don't so attached to the results or outcome that you are hoping for. It's OK to hope for one thing in particular, but during Mercury retrograde, we also need to be prepared to face surprises or an unexpected turn in events. This is not a cynical view, since ultimately, whatever happens during this time is exactly what was meant to happen. (After all, all retrograde cycles do accelerate the clearing and release of karma.)
If you can, have a SOFT HEART towards yourself and others too during this time. It is my observation that Mercury retrograde can bring up unresolved emotions and feelings—sometimes these unresolved emotions are from situations far in the past (childhood or past lives) and these feelings coming to the surface can cause a person to revert to childish or irrational behavior.
If you feel any of this coming up in yourself, or observe it in another, do your best to step back and just witness it, and hold a safe, loving and non-judgmental space in your heart towards yourself or the person experiencing the unresolved emotions and energies of the past.
Hope you found this newsletter helpful, dear one! I am sure that I will be in touch with you with more Mercury retrograde guidance at least one more time in the next few weeks.
In the meantime, I recommend checking out my Mercury retrograde related video on You-Tube called Mercury Retrograde Is NOT the Enemy--it will help you understand a bit better about what is REALLY going on during Mercury retrograde, and the best attitude to have for the best results during this time.
Until next time... Bright Blessings to You All!
Rev. Dr. Cynthia Killion, Psychic Cynthia
11:03 pm cdt
Thursday, May 16, 2019
The Turning Point-Saturn-Pluto Conjunction (South Node too)
THE TURNING POINT-Part 1:
Saturn-South Node-Pluto Conjunction
by Rev. Dr. Cynthia Killion
(Psychic Cynthia)
Reprinted from May 4th 2019 Cosmic Newsletter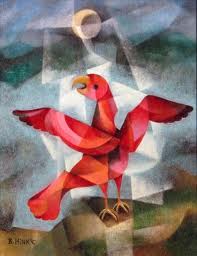 QUICK PREVIEW of this edition:
The topic of today's newsletter is actually an alignment (a couple actually) of Saturn, North Node, and Pluto. These alignments are pretty heavy-duty and will be affecting us for quite some time, so this newsletter is actually a TWO-parter. (I'll send part 2 to you next week, after you've had a little while to digest this first part.)
Also, it's probably worth mentioning here too that Saturn and Pluto both just went retrograde recently. Retrograde Pluto's effects are real but subtle, basically triggering our own inner intensity & desires but asking us to direct this intensity & desire INWARD in pursuit of healing and transformation, rather than focusing so much on outer world change or seeking outer power. (That one lasts until around Oct 3rd.)
Retrograde Saturn (until Sept 18) has a heavy energy that is usually much more noticeable. During this period that Saturn is in retrograde, it is wise to avoid taking on too many new responsibilities or commitments, and instead to focus on taking care of EXISTING responsibilities and commitments, tending to basic practical and spiritual needs, and putting "first things first" (as they say). Now is a time for SIMPLIFYING and keeping things simple, modest & focused.
Anyhow, there's SO much more going on with Saturn and Pluto than what I've just mentioned here (not to mention, the North Node of the moon), so please do continue reading for more info.
Dear Friends, hello there. I hope that you are having a lovely weekend and that your spring is going well too! We are under some pretty heavy and intense cosmic energies right now, the kind of energies that wrap you in a blanket of astral thickness, the kind of shifts that grab hold of your very being and don't let go for a very long time.
I don't mean to sound overly dramatic here. It's just that these kinds of shifts that we are experiencing at the moment are very "heavy" in their energetic signature, and although sometimes they can be subtle (or NOT—it really depends on the person and their unique birth chart), these shifts certainly are powerful & life-changing.
Saturn and Pluto are currently orbiting close to each other in the sign of Capricorn, building up to a precise conjunction that will be exact on January 12th, 2020. Even though the exact conjunction is still some ways off, we are experiencing its effects for most of this year, since these two planets are slow moving and will be orbiting fairly close to each other for the rest of this year.
In fact, at the time that I am writing this newsletter for you (around the start of May 2019), Saturn and Pluto are still only about 3 degrees apart, which is close enough to be considered "in orb" for a conjunction. As far as I can tell (based on the 3 degree rule), it looks like we are going to continue to be in this Saturn-Pluto pressure-cooker at least until around June 15th. Although some may continue to experience an intense effect from this transit until well into and through July. (After July, we get a little bit of a reprieve from the most intense part of this transit for a few months.)
In addition to the loose Saturn-Pluto conjunction that we are under for the entire month of May, there was also an EXACT Saturn conjunction with the South Node of the moon just a few days ago on April 30th.
Although this Saturn-South Node conjunction is no longer technically exact, it too is still within a close orb for the entire month of May. Saturn is a very karmic planet, and the South Node of the moon by itself often signifies a karmic ending of a sort. So with these two coming together at this time, we have the possibility of a MAJOR TURNING POINT on our personal paths.
In many cases, this may mean BREAKING FREE from the past—past commitments, past relationships, past involvements or responsibilities, and most importantly, past karmic debts & patterns. Between now and the end of September, it may become apparent to you that a spiritual "contract" that you have had in one or more relationship or areas of life is now fulfilled and complete. This contract could even be with a "role" that you were once accustomed to playing that you now find yourself moving beyond.
Of course, it is also possible that you are not yet QUITE done with a particular role or contract, and you need to play out one last scene or tie up some loose ends before moving on. If so, you will have continued support and impetus (and sometimes, pressure) from the Universe to finish this phase up, as the Saturn-South Node conjunction stays in orb for quite a while, and will hit exact again on July 4th and September 28th.
To be continued…..I'll send you part two of this newsletter in a few more days, after you've had a little while to digest this first part. In the meantime, hope you found this information illuminating! Thanks for being a subscriber and reader of my Cosmic Newsletter. Please feel free to reach out to me if you have any questions about scheduling private readings, purchasing flower essences, or if I can be of assistance to you in any other way relating to the spiritual psychic realm.
Bright Blessings,
Rev. Dr. Cynthia Killion (Psychic Cynthia)
10:19 pm cdt
Tuesday, February 5, 2019
Happy Chinese New Year!
HAPPY CHINESE NEW YEAR OF
EARTH (BROWN) PIG!
By Rev. Dr. Cynthia Killion (Psychic Cynthia)
February 5th 2019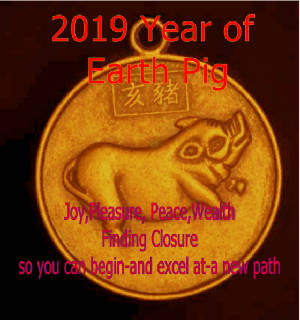 A TIME OF CLOSURE & ASSIMILATION
OF PAST EXPERIENCES
Happy Chinese New Year of Earth Pig to You All! In Chinese astrology, Pig is a gentle, loving and hard-working creature who also loves to relax and enjoy the finer things of life. Yes, it's true that sometimes Pig can be lazy, but actually as a rule, Pig is the last one to come in from the fields for the day, so he/she can be a really hard worker. Pig years are great for going after you want in a steady, consistent way, and working quietly behind the scenes to do what needs to be done.
The Earth Pig is also known as THE MONASTIC PIG. This is the elemental version of the Pig spirit that has ALREADY gone out into the world on a great quest and achieved what she set out for. Now, she withdraws from the rat race (so to speak) for a time of rest, recuperation, and contemplation, in preparation for the NEXT journey, quest or adventure....
The idea with this current year's cycle is that it is a time to ASSIMILATE and digest all the experiences & knowledge that has been gained since the Fire Pig cycle that occurred 12 years ago (2007). You may even find yourself revisiting issues or patterns that were very active in your life at that time. (If so, hopefully you can now see them with a more clear & higher perspective.)
Keep in mind too that Pig is the LAST of the animals in the 12 year cycle. Therefore, for most of us, this will be a wonderful year for getting closure & endings. I know for some it may sound strange & unfamiliar to hear me speak of endings as being "wonderful" (since there almost seems to be a taboo or great fear around death & endings in our modern society). But the endings that take place in a Pig year cycle can break negative karmic ties & clear the way for new beginnings. So for some, this will be a year of clearing out, cutting cords, letting go, and tying up loose ends.
However, Pig is a positive year for new beginnings in the spiritual, psychic, creative or social realms. The more humble you are in this Earth Pig year, the mroe successful you will be.
Pig is gentle, gracious, social, loving and kind. In a Pig year such as the one we are now in, you will get along better by taking on some of these qualities of the Pig (even if your own Chinese animal sign is different). This year has more of a feminine, yin quality to it. You will meet with greater success in this year of Pig if you focus on internal or spiritual matters, rather than just chasing outer success or being obsesses with worldly results. Even when dealing with worldly matters & achievements in 2019, it is better to lead with your heart or your intuition, rather than your logic.
Pig is inherently a watery sign, so even though 2019 is an Earth element year, we can expect a strong watery energy to this year, which might lead to FLOODS or HURRICANES, both in the literal outer-world, as well as in the inner world. People are extra-sensitive in a Pig year, for better or for worse. Also, this combination of water & earth can sometimes create MUD, clouding matters, generating confusion, or making a situation sticky or difficult to proceed in. But at least the Earth energy of this year will help to soak up some of the extra flood waters of Pig, so to speak.
I myself am partial to the energy of Pig, as this is my hour sign in the Chinese zodiac. (Hour, not year--you actually have four different Chinese signs in your chart--eight if you count the elemental types too.) Last year was a DOG year, which wasn't so bad for me personally (as I am a Tiger year sign, and they are compatible). However, Dog years aren't usually very peaceful and are often full of conflict and turmoil. Pig is a much more peaceful energy that lends itself well to people like us who are into the spiritual psychic, artistic, creative, and more refined sides of life.
Many people will find peace, harmony, love and joy in this fortunate year of Pig, and some may even find greater wealth & financial abundance!
P.S. Are you curious to know more about YOUR OWN personal Chinese astrology chart, and how you might PERSONALLY fare in the year ahead of Earth Pig???? Then you may be interested in having a private Chinese Astrology reading with me.
4:30 pm cst
Thursday, January 10, 2019
Courage-Spiritual Theme for 2019
2019 SPIRITUAL THEME: COURAGE
By Rev. Dr. Cynthia Killion (Psychic Cynthia)
January 10th, 2019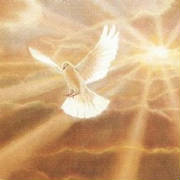 Dear Psychic Friends, hello there! Tonight I tuned into my main spirit guides, the Atlantean Teachers, and asked them if they would deliver a channeled message regarding the spiritual theme or lesson for the year. Here is the message that I received directly from them:
"COURAGE. Courage is the keynote of the year. Courage to step out on new paths, take risks and carve out new experiences and niches for yourself. Courage to step up and out and answer your calling. No excuses anymore—you can do this! Relax. You don't have to be afraid.
At the start of this new cycle, you may still be feeling a sense of fear, loss or lack from before. Gradually, your past struggles will be converted to fuel for new inspiration. Out of your need will come the impetus to change, and out of your challenges and constrictions will come that deep desire to breakthrough and excel.
And breakthrough you will—if you choose COURAGE, the courage to change and do things DIFFERENTLY than you ever have before, the courage to step out and live your higher purpose. Courage is a crucible that will re-make and reform you, and it will re-make and re-form your life, if you are willing to give yourself over to it and to sail out into uncharted territory."
Companion Affirmations:
—I choose COURAGE. I now boldly step out and step up my game. I answer the call.
—I choose to approach life with a spirit of openness, curiosity, and adventure.
—I face each day with a spirit of courage, knowing that my strength comes from the Divine within me.
—From deep within, I now find the courage to _____________ (whatever it is you have been afraid of doing before but feel called to do).
—Whatever happens today, whatever struggles or triumphs I may face, I face them courageously, and with the heart of a spiritual warrior.
—I choose courage over fear, faith over hopelessness.
—I now bravely embrace my higher destiny, and live, love and serve with courage.
Hope you enjoyed this channeled message & its companion affirmations that I brought through for you for 2019! May you & yours be blessed in the year ahead, and may you find the COURAGE to shape and create the life that you seek in 2019.
Bright Blessings,
Rev. Dr. Psychic Cynthia (Cynthia Killion)
10:45 pm cst