Cynthia's PSYCHIC BLOG is a way for Rev. Dr. Psychic Cynthia to provide complimentary guidance & spiritual mentorship via her writings....stories from her on-line newsletter are occasionally posted here, as well as other occasional upates....Many of the stories that are listed here first appeared in Cynthia's newsletter in some form or another. If you would like to read these kind of interesting & uplifting stories free of charge a couple of times a month, then you can
subscribe to Cynthia's free Cosmic Newsletter.
Also, check out Cynthia's "article page" on the main navigation bar.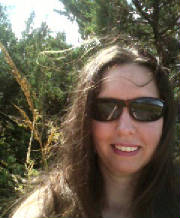 ---
Thursday, October 28, 2010
Venus Retrograde & Your Inner Bitch
VENUS RETROGRADE…Bad News for Relationships....aka "Unleash Your Inner Bitch"
Venus has been retrograde since October 8th. It went retrograde at 13 degrees Scorpio. It will remain retrograde until November 18th. Venus only goes retrograde about once every eighteen months, (compare that to Mercury, which retrogrades 3 times every year.) So it's a pretty significant event when it does happen.
I didn't write much about this Venus retrograde at the time that it started, because quite frankly, I didn't have much positive to say about it, especially with it spending most of its time in the infamously dark & moody sign of Scorpio. In fact, not only was Venus in Scorpio when she went retrograde, she was also within the phase of Scorpio known as "via combusta", a time known by the ancient astrologers as "sinister". (We'll talk more about Via combusta in just a moment).
What does Venus retrograde in Scorpio mean for you?

<<<<<<<<Click here to read the full blog & learn more.
12:04 am cdt
---
Selected Previous Posts
(these are just a few of Cynthia's past selected writings...
*The Price of Ignoring Your Intuition...Part 1 Feb. 10, 2009
*Part II: Encountering the Voice of God Feb 10, 2009

* A Guide Named "Love"
*My Personal Healing Breakthrough at the ULC July 2, 2008


*Edward the Ghost & the Spirit Rose: Part I
Selected Previous Posts
(these are just a few of Cynthia's past selected writings...
*The Price of Ignoring Your Intuition...Part 1 Feb. 10, 2009
*Part II: Encountering the Voice of God Feb 10, 2009

* A Guide Named "Love"
*My Personal Healing Breakthrough at the ULC July 2, 2008


*Edward the Ghost & the Spirit Rose: Part I