Cynthia's PSYCHIC BLOG is a way for Rev. Dr. Psychic Cynthia to provide complimentary guidance & spiritual mentorship via her writings....stories from her on-line newsletter are occasionally posted here, as well as other occasional upates....Many of the stories that are listed here first appeared in Cynthia's newsletter in some form or another. If you would like to read these kind of interesting & uplifting stories free of charge a couple of times a month, then you can
subscribe to Cynthia's free Cosmic Newsletter.
Also, check out Cynthia's "article page" on the main navigation bar.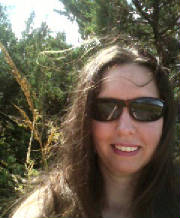 ---
Tuesday, May 10, 2011
Fairy Ring Vision Quest
FAIRY RING VISION QUEST...written Mother's Day, May 8, 2011

Dear Friends, I'm writing this while I'm at the cabin on the lake, the one that my husband and I like to sometimes "get away" to. It is on the outskirts of a small town in southern Kansas, far away from the hustle and bustle of noisy city living. This cabin is a peaceful haven where I sometimes go to get re-charged. I enjoy it greatly because there is so much nature here on this quiet lake, and yet, we also have access to many modern conveniences such as running water and air conditioning. It is a lot like going camping, only without all the hassle and discomfort (smile).
I just got back from taking a walk down to what I call the magical "fairy ring park".

It is a wooded campground area on the remote end of the lake that is very quiet and off the beaten path.

This "fairy park" sets off of the road and goes all the way back to the edge of the water, where the lake is very narrow here and more like a "river" or a "channel" than a lake.

Tall, wild grass leads down to flat, low lying ground near the river that is populated by willows, cottonwoods, and occasional cattails. Across this narrow strip of lake, there are small cliffs and ledges of striking red rock. In addition to the willows and the cottonwoods, the fairy park is also populated by elms, maples, catalpas, and mighty oaks. Most impressive of all are the two mighty Oaks that are set off towards the north end of the area....

<<<<<<<<<<CLICK HERE to read the story of Cynthia's magical encounters in the "Fairy Ring Park"
7:36 pm cdt
---
Selected Previous Posts
(these are just a few of Cynthia's past selected writings...
*The Price of Ignoring Your Intuition...Part 1 Feb. 10, 2009
*Part II: Encountering the Voice of God Feb 10, 2009

* A Guide Named "Love"
*My Personal Healing Breakthrough at the ULC July 2, 2008


*Edward the Ghost & the Spirit Rose: Part I
Selected Previous Posts
(these are just a few of Cynthia's past selected writings...
*The Price of Ignoring Your Intuition...Part 1 Feb. 10, 2009
*Part II: Encountering the Voice of God Feb 10, 2009

* A Guide Named "Love"
*My Personal Healing Breakthrough at the ULC July 2, 2008


*Edward the Ghost & the Spirit Rose: Part I