Dear Spiritual Psychic Development Student,
Here is the place where you can order recordings of Cynthia's LIVE "Spiritual Psychic Development" training classes held at Sunset Camp in Wells, Kansas, beginning July 18th, 2009. These classes were recorded LIVE for you so that you could have the same enriching experience of studying with Cynthia just as if you were able to attend in person. Cynthia has packaged ALL of the audio from "Spiritual Psychic Development" Unit 1 into a 12 CD Kit for you.
The
"Spiritual Psychic Development 1" Kit
contains the audio from all 5 afternoon workshops in Unit 1, plus a bonus "Clairaudient Meditation CD" with relaxing music, PLUS a bonus data CD that contains pdf files of the 35 page "Spiritual Psychic Curriculum Level 1" notebook, along with all of the handouts from the live classes.
Topics covered in this 12 CD kit include psychic protection, trance, the psychic signal, clairvoyance, clairaudience, energy & aura sensing, toning, humming, how to do a reading, the 2 step process in getting psychic & intuitive guidance, interpreting symbolism received during a reading, grounding & centering, communing with the Younger Self, and much more. For more info, or to order, please click
HERE.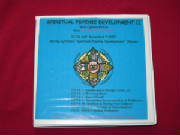 "Spiritual Psychic Development Level 2"
This is a continuation of the teachings from Unit 1. Now that we've laid the foundation with the first unit, in Unit 2, we travel deeper into the realm of "Spiritual Psychic Development" with an entire unit focused on telepathy, spirit communication, psychic protection & purification, and the evolution and integration of the soul.
The "Spiritual Psychic Development Level 2" Kit was recorded LIVE during Cynthia's Unit 2 classes at Sunset Spiritualist Camp in Wells, KS. This kit can be purchased as a stand-alone course of intermediate psychic development (for more experienced, advanced students) or as a follow-up to Cynthia's Level 1 "Spiritual Psychic Development" kit.
The classes recorded on this kit focus primarily on psychic telepathy (the foundation for all mediumship and spirit communication) as well as connecting with your True Self and Divine Essence. Level 1 Spiritual Psychic Development with Cynthia helped you to awaken your basic psychic senses and get grounded & centered. Now, in Level 2, you will connect with your power centers, awaken your intuition, reclaim your true self, learn to polarize your aura for psychic protection, and experience deep level relaxation designed to help increase your psychic perceptions.
This CD set will help introduce you to specific processes & techniques that can help you move from vague psychic perception into a more heightened spiritual-psychic awareness. By working with the meditations in this CD set, you will release any anxiety, tension, or negative emotion that has been standing in the way of your higher growth. You will also learn specific techniques for doing readings for others and gain insight into the pattern of how you receive psychic data. You will come to understand the importance of telepathically connecting with your True Self, something that is very important for any kind of mediumship or advanced level psychic work.
A 12 CD kit with over TWELVE HOURS of audio (including the "Melting Meditation" CD). For more info or to order "Level 2 Spiritual Psychic Development",
CLICK HERE.

ALSO AVAILABLE: "Remember Who You Are" 6 CD Spiritual Development Kit
Available NOW! Click HERE for more info.
Questions or need help ordering? Please e-mail Cynthia at cynthia@cynthiakillion.com, or use the "Contact Cynthia" form on this site. Please note: If you wish to pay & order by mail (instead of using this website to order), you can! Please send check or money order to: 338 S. Volutsia, Wichita, KS 67211. Make check or money order payable to: Cynthia Killion. With your payment, please include the following: Your phone number & e-mail (in case there are questions about your order) and the address you would like your kit mailed to.